Boss Babe Appreciation Derria Underwood @dlolo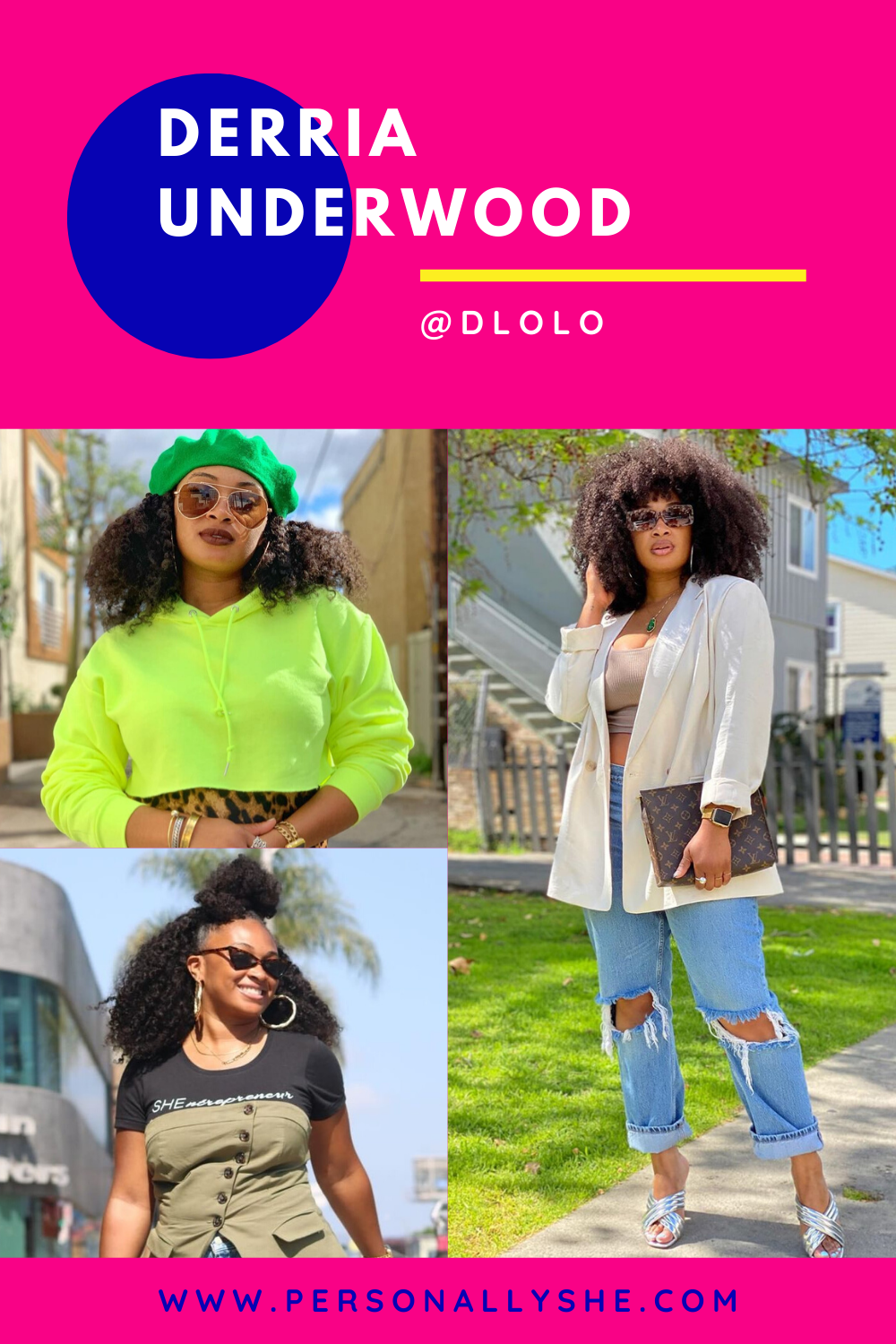 Sis, can we please discuss "What Would Derria Wear"? I've had the pleasure to work with Derria Underwood aka @dlolo and listen!!!! This lady knows fashion!!! She slays every look and does so effortlessly. I love her mix of trendy and casual with a hint of elegance. She has the dopest IG stories! If you need DIY tutorials, shopping recommendations, or plants tips, Derria is your girl!. When you try one of her tips, make sure to use her hashtag #blameitonderria. Need I say more? I will! Let's get into this fashionista. 
Born in Buffalo, NY and raised in Charlotte, NC, Derria has a wide-array of influence that helps her understand her client's vision, and translate it into a remarkable fashion statement.
"Edgy. Versatile. Spot on."... That's what clients have to say about the unique wardrobe creations from Derria. A 4-time published stylist, Derria has been using her keen eye for fashion to help shape and recreate wardrobes since 2012, establishing herself as a key influencer in the fashion industry.
A well-known blogger on wardrobe-styling that ignites your soul, Derria offers consultation on wardrobe reconstruction, personal shopping experiences, and photoshoot/event styling that not only sells but brings the atmosphere to life. 
Derria helps her clients upgrade to a wardrobe that speaks to the heart of who they are, and turns heads everywhere they go. Derria is studious and takes time to understand her clients, who they are, what they care about, and what they desire to see when they look into the mirror.
Derria is also 1/2 of the fashion blog Frugal Shopaholics. Frugal Shopaholics is an affordable fashion and budget shopping blog. Derria and her partner Christen are just two friends that love to shop. 
They show it's possible to look like a million bucks and keep up with the latest fashion and beauty trends without spending a lot of money. 
Please PIN this for later
Make sure you check Derria out on IG @dlolo, Let her know I sent you! Be sure to check out the other boss babe features on the blog, and while you're at it, you may as well hit up the online store. Treat yourself to something new!
Your Girlfriend,
Twana
---